Indicadores
la visión sintáctica y la visión semántica (primera parte)
Alberto Marradi, Ph.D.

Università degli Studi di Firenze
Palabras clave:
indicadores, definiciones operacionales, Semántica, Validez
Resumen
Premisa (que oficia también de resumen)
En este ensayo me propongo criticar una serie de tesis explicitadas y de supuestos acerca de la naturaleza y la función de los indicadores y, por ende, una serie de procedimientos que se derivan de esas tesis y supuestos, en particular:
1. el supuesto según el cual se hace uso de ellos solo en las ciencias sociales;
2. la burda tendencia a confundirlos con las definiciones operativas; o
3. la tesis casi universal según la cual todas las propiedades de gran generalidad e importancia teórica necesitan indicadores;
4. el abanico de interpretaciones que se dieron acerca de la relación entre indicador y concepto indicado, todas inspiradas por el deseo de conjurar el odiado término 'semántica', que remite a la disciplina justamente considerada como la más peligrosa enemiga de la visión objetivista de la ciencia;
5. la interpretación predominante o exclusivamente sintáctica de la validez, es decir, del grado de correspondencia (me resulta difícil no usar el adjetivo 'semántica') entre indicador y concepto indicado;
6. la consiguiente pretensión de medir la validez con varios coeficientes;
7. la idea según la cual establecer una relación de indicación es ilegítimo, porque cada concepto de propiedad tiene su autonomía;
8. la idea según la cual la relación de indicación tiene que ser unívoca, y que el hecho de que investigadores diferentes usen indicadores diferentes para el mismo concepto es una demostración
de la inmadurez de las ciencias sociales.
A cada punto a criticar dedicaré un párrafo. Luego agregaré unas propuestas de elección de indicadores por algunos conceptos fundamentales es las ciencias sociales.
Citas
Blalock, H. M. (1961). Causal inferences in non-experimental research. Chapel Hill: University of North Carolina Press.
Blumer, H. (1948). Public opinion and public opinion polling. American Sociological Review, 13(5), 542-549.
Brislin, R. W., Lonner, W. J., & Thorndike, R. M. (1973). Cross-cultural research methods. Nueva York: Wiley.
Campbell, D. T., & Fiske, D. W. (1959, marzo). Convergent and discriminant validation by the multitrait-multimethod matrix. Psychological Bulletin, 56(2), 81-105.
Carmines, E. G., & Zeller, R. A. (1979). Reliability and validity assessment. Londres: Sage
Cronbach, L. J., & Meehl, P. E. (1955, julio). Construct validity in psychological tests. Psychological Bulletin, 52(4), 281-302.
Di Franco, G., & Marradi, A. (2014). Factor analysis and principal component analysis. Milán: Franco Angeli.
Dodd, S. C. (1942). Dimensions of society. Londres: MacMillan.
Durkheim, E. (1893). De la division du travail social. París: Alcan.
Durkheim, E. (1896). Le suicide. París: Alcan.
Frey, F. W. (1970). Cross-cultural survey research in political science. En R. T. Holt & J. E. Turner (Eds.), The methodology of comparative research (pp. 173-294). Nueva York: Free Press.
Galtung, J. (1967). Theory and methods of social research. Londres: Allen & Unwin.
Goffman, E. (1956). The presentation of self in everyday life. Edimburgo: University of Edinburgh Social Sciences Research Centre, Monograph 2. (Ed. revisada Nueva York: Doubleday, 1959).
Guttman, L. A. (1950). The basis for scalogram analysis. En S. Stouffer (Ed.), Measurement and prediction (vol. IV, pp. 60-90). Princeton: Princeton University Press.
Hathaway, S. R., & McKinley, C. J. (1972). Where have we gone wrong? The mystery of the missing progress. En J. N. Butcher (Ed.), Objective personality assessment (pp. 24-44). Nueva York: Academic Press.
Kriz, J. (1981). Methodenkritik empirischer sozialforschung. Eine problemanalyse sozialwissenschaftlicher forschungspraxis. Stuttgart: Teubner.
Kriz, J. (1988). Facts and artifacts in social science. An epistemological and methodological analysis of empirical social science research techniques. Nueva York: MacGraw-Hill.
Lazarsfeld, P. F. (1958, otoño). Evidence and inference in social research. Daedalus, 87(3), 99-130.
Lazarsfeld, P. F., & Barton, A. H. (1951). Qualitative measurement in the social sciences: Classifications, typologies, and indices. En D. Lerner y H. D. Lasswell (Eds.), The policy sciences. Recent development in scope and method (pp. 155-92). Stanford: Stanford University Press.
Marradi, A. (1978). Die faktorenanalyse und ihre rolle in der entwicklung und verfeinerung empirisch nützlicher konzepte. Kölner Zeitschrift für Soziologie, 30(3), 488-513.
Marradi, A. (1979). Aggregazione dei comuni in comprensori socioeconomicamente omogenei mediante l'analisi fattoriale: il caso della Toscana. Quaderni dell'Osservatorio elettorale, (5), 5-54.
Marradi, A. (1981). Factor analysis as an aid in the formation and refinement of empirically useful concepts. En E. F. Borgatta & D. J. Jackson (Eds.), Factor analysis and measurement in sociological research: A multi-dimensional perspective (pp. 11-49). Londres: Sage.
Marradi, A. (2002). Método como arte. Papers. Revista de Sociología, (67), 107-127.
Marradi, A., Archenti, N., & Piovani, J. I. (2007). Metodología de las ciencias sociales. Buenos Aires: Emecé.
McKennell, A. C. (1973, diciembre). Surveying attitude structures: A discussion of principles and procedures. Quality and Quantity, 7(2), 203-94.
Merton, R. K. (1948, octubre). The bearing of empirical research upon the development of social theory. American Sociological Review, 13(5), 505-15.
Mokrzycki, E. (1983). Philosophy of science and sociology. From the methodological doctrine to research practice. Londres: Routledge & Kegan Paul.
Nicéforo (1921). Les indices numériques de la civilisation et du progrès. París: Flammarion.
Nowak, S. (1976). Understanding and prediction. Essays in the methodology of social and behavioural theories. Dordrecht: Reidel.
Przeworski, A., & Teune, H. (1970). The logic of comparative social inquiry. Nueva York: Wiley.
Quetelet, L. A. J. (1869). Physique sociale ou Essai sur le développement des facultés de l'homme. Brucelas: C. Murquaedt.
Reynolds, P. D. (1971). A primer in theory construction. Indianápolis: Bobbs-Merrill.
Scott, W. A. (1968). Attitude measurement. En L. Gardner & A. Elliot (Eds.), Handbook of Social Psychology, Vol. II. (pp. 204-273) Reading: Addison-Wesley.
Singer, J. D. (1982, primavera). Variables, indicators, and data: : The measurement problem in macropolitical research. Social Science History, 6(2), 181-217. doi:10.2307/1171105
Sullivan, J. L., & Feldman, S. (1979). Multiple indicators: An introduction (Vol. 15). Newbury Park (Ca): Sage.
Teune, H. (1968, abril) Measurement in comparative tesearch. Comparative Political Studies, 1(1), 123-38. doi:10.1177/001041406800100105
Thurstone, L. L., & Chave, E. J. (1929). The measurement of attitude: A psychophysical method and some experiments with a scale for measuring attitude toward the Church. Chicago: University of Chicago Press.
Verba, S. (1969). The uses of survey research in the study of comparative politics: Issues and strategies. En Stein Rokkan et al. (Eds.), Comparative Survey Analysis (pp. 56-105). París: Mouton.
Villermé L. R. (1840). Tableau de l'état physique et moral des ouvriers employés dans les manufactures du coton, de laine et de soie. París: Renouard.
Winch, R. F., & Campbell, D. T. (1969, mayo). Proof? No. Evidence? Yes. The significance of tests of significance. American Sociologist, IV(2), 140-3.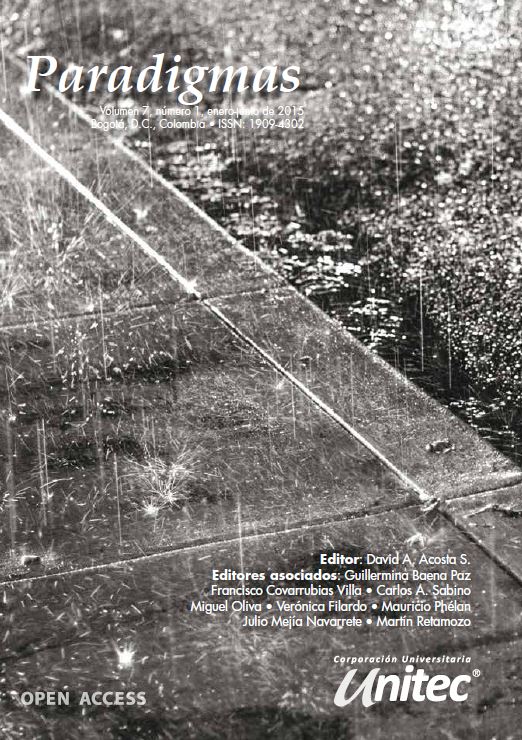 Cómo citar
Marradi, A. (2015). Indicadores. Paradigmas, 7(1), 37-65. Recuperado a partir de https://publicaciones.unitec.edu.co/index.php/paradigmas/article/view/51
Derechos de autor 2015 Alberto Marradi, Ph.D.
Esta obra está bajo licencia internacional
Creative Commons Reconocimiento-NoComercial-SinObrasDerivadas 4.0
.
Los artículos emplean licencias de acceso abierto distribuido bajo los términos de la licencia de Creative Commons 4.0 (https://creativecommons.org/licenses/by-nc-nd/4.0/), la cual permite su uso,
distribución y reproducción de forma libre siempre y cuando el o los autores reciban el respectivo crédito.